We look forward to serving you! Remember, we offer dine and take out services for lunch and dinner!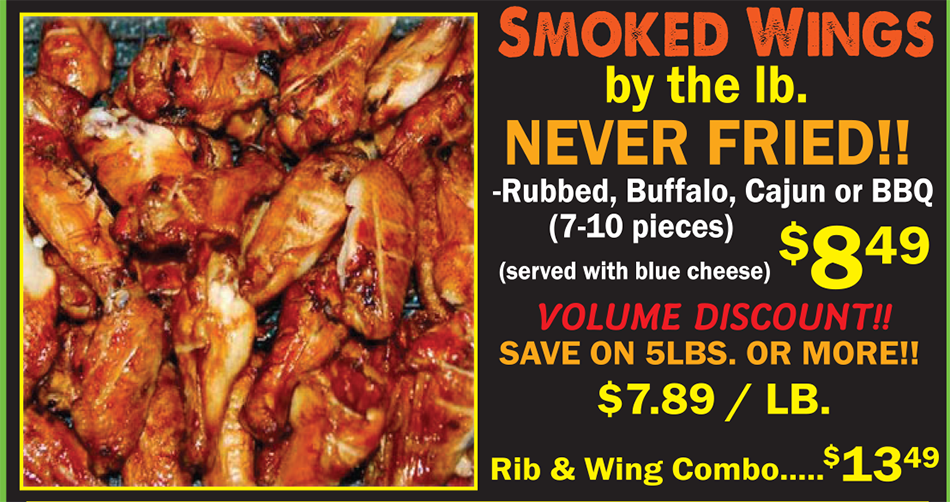 Buffalo's Best BBQ Menu!

Smoked Wings by the lb. NEVER FRIED!!
Rubbed, Buffalo, Cajun or BBQ (7-10 pieces)
* Volume Discount!! Save on 5lbs. or more $7.89/ lb.
$8.49
Rib & Wing Combo
$13.49
SPECIAL #1
Pulled Pork Sandwich, Frenchy Fries, and a free soft drink!
$8.29
SPECIAL #2
Brisket Sandwich, with side and soda!
$11.99
SPECIAL #3
Smoked Wings, with side and soda.
$11.29
SPECIAL #4
BBQ Burger with caramelized onions, with side and pop
$8.89
SPECIAL #5
Buffalo / Carolina Bomber with Frenchy Fries and pop
$6.49
Brunswick Stew
Award winning! The South's version of chili. Seasonal.
$4.79 per cup
Pulled Pork Sandwich
Slow roasted overnight!
$4.99
Smoked Turkey Breast Sandwich
$6.49
Steak and Cheese Sandwich w/ side
$11.29
Baby Back Rib Platter w/ 2 sides
$17.99
Baby Back Ribs ala cart full rack
$25.26
Pulled Pork Platter w/ 2 sides
$8.99
Brisket Platter w/ 2 sides
$14.19
Chicken and Rib Platter w/ 2 sides
$17.53
Combo Platter w/ 2 sides (ribs, brisket and pork)
$18.99
Rotisserie Chicken w/ 2 sides
$8.49
BBQ Tenders w/ side
$5.98
Frenchy Fries Fresh cut and rubbed.
$2.99
Soda with Free Refills
$2.29
Pulled Pork by the pound
$12.99
SIDES
Cole Slaw, Macaroni and Cheese, Baked Beans, Potato Salad, Corn Bread or Potato Explosion
SM: $1.89
LG: $3.49
Quesadillas / Flatbreads
( your choice ) includes sour cream and salsa!
- Chicken
6.65
- Pork
6.19
- Steak
9.89
- Chicken
6.09
All prices are charged per person, per item. NY State Sales Tax will be added to all orders. Minimum of 72 hours required for all catering orders.