"Cooked Low and Slow, Served Fast and Friendly"
We have been serving up Western New York's and Buffalo's Best BBQ for many years with over 50 years of Barbequing experience. Now your can enjoy the our BBQ fare at your home, work, office or event! The truck will cater any type of event.... wedding, bachelor, bachelorette, birthday, anniversary, office lunches and/ or dinners, holiday parties..... you name it, we can cater it! We have been on the Niagara Wine Trail,Thunder on the Niagara, Wednesday nights for the concerts on the canal in North Tonawanda, The Smokin Eagles BBQ Fest, and numerous Food Truck Rodeos.
We use a grill on our BBQ food truck that burns actual wood logs! Using seasoned fruit woods gives your food an unmistakeable flavorfull goodness that can't be duplicated in traditional ovens!
The BBQ Truck Meal Deals!
The BBQ Truck Meal Deal includes: 1 entrée, paired with either frenchy fries or another side of your choice. Some choices could be: Smoked Chicken Wings, Baby Back Ribs, Pulled Pork, Chorizo w/ Bruschetta
BBQ Catering Savings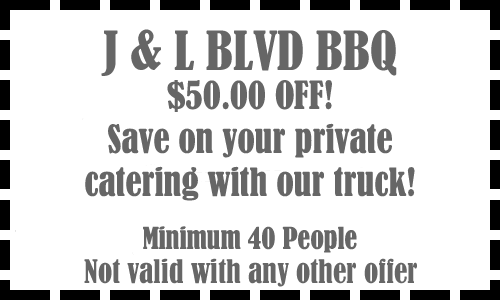 The BBQ Truck Scheduled Locations!
Click on any location in the calendar below to see the menu for that day.
Follow The BBQ Truck on Twitter
Tweets by @TheBBQFoodTruck